I will not bore you with factual information about fungus, fungal nails, symptoms, how you can get it and how you can get rid of it.  The internet is full of informative stuff.  However, not very often you come across of success stories that are legitimate, and not from retail companies trying to sell their products to you.
I am a Foot Health Practitioner treat fungal nails on a daily basis.  Some of my patients try and treat their fungal nails themselves, after the initial visit and a consultation.  Therefore the end result often isn't available to be reviewed.  However, most of my patients want to continue with the treatment and book a home visit every 6 or 8 weeks to ensure the healing progress is maintained.
I am proudly want to share a success story from one of my patients.  The fungal nail pictures before and after.
PS Before picture taken in July 2019, and after – January 2020.
If you would like to book an appointment for a home visit, call me, Mobile Foot Health Practitioner in Margate, Broadstairs, Ramsgate and surrounding areas on 07984259130.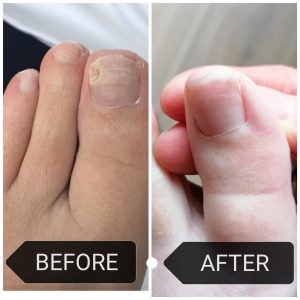 .
Warnings
Toenail fungus can cause medical complications for those with diabetes or suppressed immune systems due to leukemia, AIDS or a recent organ transplant. The Mayo Clinic stresses the importance of seeing a doctor if you fall in one of these categories and think you might have a toenail infection.